DEQUALS – International Educational Fair – 15-16 November 2013, Nicosia, Hilton Hotel Cyprus
Human Asset, in collaboration with eMentoria worlds, participates in DEQUALS International Education Fair, 15-16 November 2013, in Nicosia, Hilton Hotel Cyprus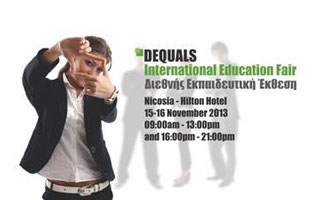 Dequals Education Fair is a unique international education exhibition in Cyprus, taking place in Nicosia the capital. The event aims to attract young people that are interested to study abroad for their secondary or higher education in distinguished international institutions.
Some 20,000 Cypriot students currently study abroad.
Dequals Education Fair expects a high number of visitors and successful recruitment of students. The fair is heavily promoted in Cyprus with an extensive promotional campaign targeting both students and their parents
• DATES & VENUES: 15-16 November 2013, Nicosia, Hilton Hotel Cyprus, Address: Archbishop Makarios III Ave., Nicosia 1516
• OPEN HOURS: Friday 9:00am to 13:00, 16:00pm – 21:00pm
Saturday 9:00am to 13:00, 16:00pm – 21:00pm
• EXHIBITORS: Educational Providers from all continents are participating.