Company Academy
Today's challenging business environment, coupled with rapidly changing customer needs, require corporate Learning & Development departments to redefine their role, strategy and contribution in their organizations.
At the same time, the increasing level of business uncertainty forces top management to question every investment, especially in traditional and ad-hoc training initiatives, while they are trying to assess the real value and long term business impact.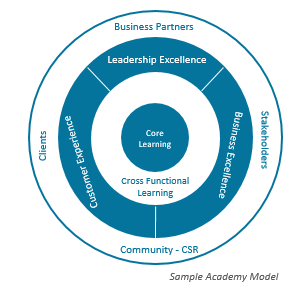 Having limited resources and tight budgets, Learning and Development teams need to think strategically, act proactively and contribute to the achievement of the company's strategy, by enhancing  -in alignment- the skills and professional growth of all employees, adaptively, on an individual basis.
This highly complex goal cannot easily be achieved with a reactive, tactical and procedural training approach.
Times call for a more strategic and holistic view of the Learning and Development function.
The view of the Company's Academy!
What is a Company Academy?
A 'Corporate or Company Academy' is a company-focused Learning and Development unit (hub), which goes beyond training and focuses, holistically and proactively, on employee performance and development, while expanding organizational capabilities and serving the company's specific strategic business needs.
That is why, in Company Academies, senior management is actively involved in the learning process and perceives the commitment to learning as a competitive advantage and not just as a cost centre.
Company Academies have shown rapid growth the last 20 years. A survey by the Boston Consulting Group (BCG) found that Company Academies doubled between 1997 and 2007, to around 2,000. Since then, it reckons, they have continued to spread, and now more than 10,000 companies around the world have them.
Why a Company Academy?
A Company Academy:
Strategy Alignment and Processes
Is designed and customized to contribute to the achievement of each company's strategic priorities
Acts as a Strategic Business Partner, by designing proactively and in full alignment the Corporate Development Framework and Strategy
Captures and disseminates formal and informal Corporate Knowledge
Culture and Growth Mindset
Is a channel for creating and safeguarding the desired Organizational Culture and Growth Mindset
Integrates Coaching and Mentoring, for more targeted results
L&D Investment Optimization
Increases the L&D Return on Investment, as initiatives may be designed and implemented by internal trainers and managers as coaches, where appropriate
Takes advantage of Technology-Enhanced Learning, creating Blended Learning programs, mixing classroom training with online courses and On-the-Job Assignments and Projects
Maintains all employees' detailed records of L&D, ensuring compliance requirements
Employee Engagement and Loyalty
Develops long-term and targeted L&D programs, adapted to the individual needs of each employee, thus increasing employee loyalty and engagement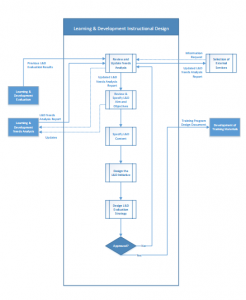 What we offer:
 Our team of experts can help you to:
Conduct Strategic Planning workshops to identify the Vision, Mission and Strategic Goals of the Company Academy, in alignment to the Company's Strategy
Perform an L&D Process Audit
Design, Develop and Implement your Company Academy, based on proven methodologies, step by step
Identify the optimum Company Academy model for your Company, that serves your Strategic Goals and fulfils the needs of all your major Stakeholders
Design and implement detailed Processes and Procedures, with all the supporting documents and forms
Prepare for the ISO 29993:2017 certification, to meet customers' requirements and improve Learning and Development Quality
Train and certify your Internal Trainers for classroom, On- the-Job and Blended L&D programs
Further develop, with coaching initiatives, your experienced Internal Trainers to excel in their role
Propose and implement software solutions for Face to Face Course Delivery, e-Learning & Blended Learning, Administration and Record-keeping